Products
Foot Pressure Measurement Device "PiT"
Features
With visual and audio suggestions, PiT is easy to use.
With the visual (monitor) and sound (audio) cues, it is easy to interpret the data concerning the foot pressure, and instruct the user as to "how much" and "where" the load is distributed.
Insert the special insoles in your own shoes and put on the wi-fi pack, and you are ready to use PiT.
Easy to wear, quick to start.

Origin of the name "PiT"
PiT stands for Physical Information Therapy. The device provides detailed information to the physical therapist or instructor concerning the patients overall performance and makes the rehabilitation process as efficient as possible. Also, PiT makes a "Pi Pi Pi" sound while it is determining the weight balance.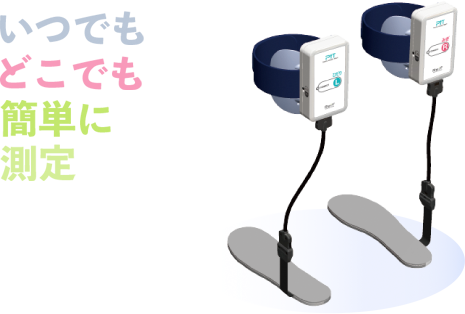 Three Advantages
Advantage1
Monitoring the data of the foot pressure and instructing efficiently.
Advantage2
Recording and analyzing the data for objective analysis and evaluation.
Advantage3
The users can check their own recovery by looking at the data soon after measuring and so enhance their motivation.
Four Functions
1.Real Time Monitoring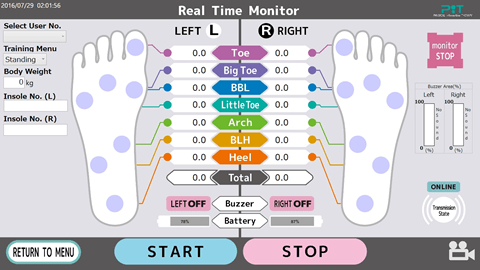 Monitoring of the load in real time on the toe, big toe, little toe, heel, between the big toe and little toe, the arch of the foot, between the little toe and heel, and the whole of the foot (for right foot and left foot.) Furthermore, PiT measures the 7 weight balance points in real time.
2.Data Check①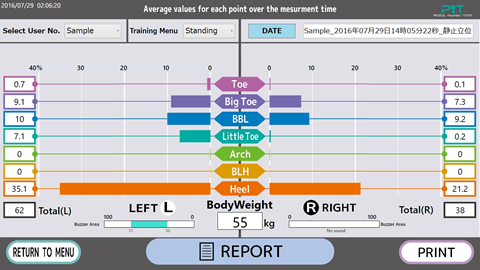 Average of each of the 7 measurement points (%) over the measurement time can be checked on the computer. Specifically, the weight balance "how much" and "where" the load is distributed can be monitored. The data selected by the operator can be printed and displayed on the monitor.
3.Data Check②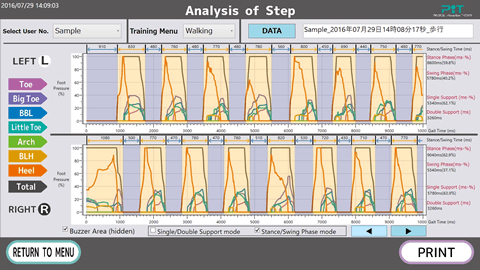 Through the analysis of the step data for each of the 7 measurement points and the total foot pressure (%), it is possible to recognize the foot contact point. A walking pattern can be determined from the contact point transition between each of the 7 measurement points.
4.Record Data History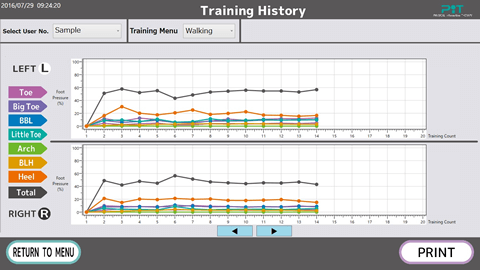 PiT records the data and manages the data. The patient's past data can be recalled and compared with the current data. The same system as in Soutenir is applied.